Customer Testimonials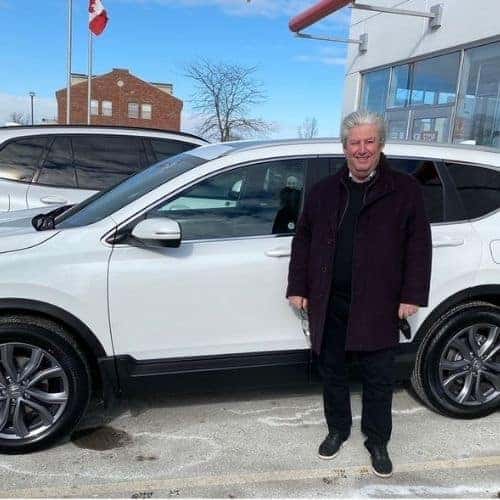 Always loving dealing with the Service Department at London Honda. From the moment you drive in to when you leave everyone that you connect with is always willing to be of assistance. Danny was great yesterday. Thank you.
All services are perfect and the guy's are very helpful and helpful 😀 👍 😊 👌
Absolutely an amazing place to take your car. The customer service is incredible the people are wonderful.
Prior to a ten-day winter trip through Northwestern Ontario, I brought my 2017 Pilot brought to London Honda to replace the front left seat heating pad, and for an intermittent "transmission system failure" notification. After significant road testing, London Honda Service was able to reproduce the error which indicated a new torque converter was required. Parts were ordered and the heated seat was repaired while waiting for the torque converter. During the install of the torque converter, it was revealed that the axel half-shafts were worn, and could not be ignored. New axel half shafts were back-ordered 1.5 weeks. Knowing that my ...
Had a great experience trading in my 2015 Honda Civic for a 2023 Honda Civic Hatchback. I love driving this car! A huge shout out to Harry and Tommy who helped put this altogether, they were amazing to work with.
Kind, courteous and knowledgeable staff that goes above and beyond to ensure your vehicle gets back in working order asap. From vehicle maintenance to windshield repair, Jim and his staff at London Honda are the go to experts.
Excellent service by Heray.
Always great service, even though it was a significant amount of money spent, I know it was needed and am glad that they take good care of my vehicle which I purchased there in 2014. I still love driving this model of vehicle and it has treated me very well. Thanks London Honda!
Want to take a few minutes to say how much I love wharncliffe rd Honda dealer. I bought 3 Hondas from them. They treated me with utmost respect, 💯 %I keep going back. If and when I get another vehicle, it will be Honda, hope whoever reads this sees my gratitude.
I have purchased ten Honda vehicles so far, about half of those from London Honda. The team there has always been very helpful, courteous and very knowledgeable about their products. I have had a couple small issues with my current vehicle, a Ridgeline. Service manager Jim Ashton has been easy to get hold of and has taken great care of me and made sure everything was looked after. Jim was very easy to deal with and he explained everything that needed to be done (warranty or not) and got me back in my vehicle in a very timely manner. I ...
I brought my car in for a few repairs and Jim Ashton the service manager is awesome he goes over and beyond to help me decide what needs to be done to my car and helps me with all my questions and concerns. He lets me know what repairs I can hold off on so I can budget accordingly due to the fact I put very high kms on my car in short periods. Thanks london Honda.
Great service and support
Very efficient, friendly service.
Great staff and relaxing wait area for short visit.
London Honda always does a great job when servicing my vehicle! Heray takes the time to explain any further work that needs to be done. I am very happy with the reliable and friendly service that London Honda always has to offer.
The service advisor returned my texts immediately.
Everybody was friendly and courteous. Service work was done as requested. Service advisor was helpful and understanding.
No doubt about it, if you want a good experience when purchasing your vehicle, talk to George V. That is the end of it -he is hands down the friendliest, most pleasant, and most caring person at the London Honda. Comparatively, to everyone else at London Honda, George acknowledges you and says hello to you, and wants to get to know you. George is a 10/10 salesman. George should be promoted. Thank you, George for your astounding expertise and help throughout the whole process!
I bought my civic honda and have been doing services in this dealer, and I cannot be more than happy to have made that choice. My car has been running smoothly and the service recommendations are just great. Also, they have great customer service from their team.
After having a miscommunication with the service department, the service manager stepped right up and went above and beyond to correct the issues. We are going on a road trip March break and wanted to make sure our vehicle was up to snuff. Thanks so much Jim for taking care of myself and ultimately my family! We're ready to hit the road!! Fantastic service!
Friendly, low pressure place. Pleasure to do business with. 3 time buyer and will come back
Thanks to Mario. He did an excellent job of looking after my needs. Ron Green
Like the service and the staff. They do the work that I request and let me know if there is anything that needs to be done or if it can wait. Happy to deal with Brad in service and Brad the tec that works on my car. Thanks guys!
Was treated fairly with the discount
Service was fast and friendly with a knowledgeable staff. Recommend London Honda very highly for great service!
Harry was fantastic. All was done promptly and on time. Excellent experience
It quickly went from casual viewing to owning my first car in Canada. Pictures are totally how i envisioned my first car.I got the best deal really; and the entire team, Jack, Tommy, and George who put it all together were simply amazing.
Good place if you have a lot of money to spend
Harry La has helped me lot for my purchase of new Vehicle. He always kept me posted for every update during the wait time. It was a seamless experience during all the paperwork and everything was explained in a transparent way by Murat.
Wife's CRV needed service . Tech was very helpful with some good suggestions and provided answers to all questions. Knowledgeable. Friendly Prompt. Always great service.
Quick and friendly service as always! My service advisor Mario is a great guy to deal with!
Worked with Harry La in our purchase of a Civiv EX. He was very professional in all aspects of the sale.
My Experience @ London Honda was amazing. The Sales associate named Harry was exceptional, he helped us in getting the right one and cleared all our doubts. If any one looking for HONDA try London and see Harry,he is the Best.
Quite a delightful experience! Got my first car ever with Roy Ellis. He is professional, a man with his words, and a polite person. The service in London Honda is also very helpful. They fixed my issue with high efficiency and nice smiles. Loved it.
Check in was quick.Because I only needed an oil change they speed up my service.Was out within an hour or so .Everyone was very helpful.
My wife and I have been thinking of getting a new car, Honda CR-V to be specific. We decided to visit London Honda last November to inquire about the car. We met Harry and he clearly explained to us each trim levels of the CR-V that helped us to choose the best trim that fits our needs. Harry is very reaponsive to all our inquiries. Waiting for ou new car now and hoping that it will arrive soon.
On my first visit to London Honda, I was welcomed by 'Lily', at reception. She made a good 'first impression' and I asked to speak to a 'non pushy' sales person. I was introduced to Harry La, and was very impressed by his professionalism, friendliness, and kindness. He was very knowledgeable, and helpful in the purchase of my car, at London Honda. You are very lucky that you have people like Harry, working for you. I would thoroughly recommend him!!!!!!
Brian and Taylor at the parts department provide excellent service. Thanks guys for great service. I hope you're both recognized !
Everyone I dealt with at London Honda was friendly and helpful.
My battery died and the service department was able to squeeze me in right away. Dylan did a fantastic job keeping me up to speed with where things were at and how long it was expected. They were thorough, fast, and friendly. When the tests were running long they even offered to cab me home which was an unexpected nice surprise. It was more expensive than i was expecting but after looking up different options it was simply an expensive battery and pricing was in line with canadian tire and other shops. 5 stars.
Every time I am at the South London Honda, I came back with a great experience. People who works there are very professional, knowledgeable and helpful! Today, Danny was my super helper. He was super informative and understanding about what I need to do with my car( additional to the regular maintenance service that I already have. I would recommend this dealership to anyone who wants a great and reliable service.
Recently attended a get to know your car at London Honda. It was an awesome event, and we both learned so much. Thank you again for being such a customer orientated company
Excellent Dealership! Well organized and generally always have the car back to me at the promised time! Awesome customer service.
My experience with London Honda was amazing. As a first time car owner, I learned all about the many things a car owner should know. From financing vs leasing, to insurance policy and Honda coverage; London Honda made my process of getting my car easily digestible and engaging while teaching me what it means to be a car owner. I would like to sincerely thank Chris, Gianni and Pabeek for guiding me through my first big financial purchase. The new Honda Civic Sport Touring 5 door looks so good and I love everything that comes with it. It was a pleasure ...
Excellent Service from the service department staff!!
Jim is the best service manager. Never a problem getting my vehicle in for service.
I had Great service with London Honda, they tell you everything and explain everything you need to know. They were Great
Amount of time was clearly told to me and it was done before the allotted time.
I had a great experience working with Chris Boyd and Tommy Protopapas. Would highly recommend.
Great service manager "Jim Ashton"
Tony and the staff at London Honda were absolutely fantastic! So happy with my experience. Thank you again!
Today when I had my van serviced, Dylan was really helpful and it was a pleasant experience. 🙂
London Honda was a pleasant experience for buying my Honda Accord. It felt like Chris was jumping through hoops to extradite the process and make things painless to get a new car after my old one was written off. I was originally looking into the civic, however they didn't have any in stock for what I was looking for but he pointed me towards the Accord, which much better suited my needs and was at the same price range too. Gianni was very helpful throughout the financing, helping me work out how best to pay for the car and ...
As usual service was exceptional,this has been my 6th Honda. Chris and Gionni were very knowledgeable and made the experience a smooth transition.
I came today to do a service and to check some noise on my 2022 Pilot. People in the service department are excellent people to deal with. A very special thank to Mike, the senior technical service guy. Mike is an outstanding person to deal with; he has a great personality and very professional technical guy. I really enjoy dealing with him and wish him all the best.
Amazing customer service! Harry and Nic went above and beyond to make sure we were able to go home with what we wanted. Everything went smoothly and we didn't have to stress over any of the details— they took care of everything. I highly suggest London Honda!
Wonderful customer service everything explained to detail ask for Harry when you get there
In 2018 I bought a brand new 2017 Pilot from Billy. I left a review about how awesome my experience was with him. This past week, I traded that in for a new 2022 Pilot with Tony. I was hesitant to trade in at this time as I was comfortable with where my payments were at and the car had been more than half paid off. I was initially also concerned with dealing with someone other than Billy, as my experience with him was so good. Tony was very accommodating and listened to my concerns and really put in the leg work to ...
Awesome service friendly and efficient. Chris Boyd pulled some magic and got my brand new car within 8 days of the sale, couldnt be happier!
Had a great experience with Chris Boyd!! I went in looking to get out of my finance on my 2016 civic sedan, and get into a lease. He worked with me to get exactly what I want and at the price I wanted!! He was so helpful and showed me a couple of cars and gave me so many options! Definitely recommend going to see him ASAP especially if you have an older Honda and are looking to trade up!
I recently purchased a car at London Honda and was extremely impressed with the customer service I received. From the moment I walked in the door, the staff were friendly and helpful, answering all of my questions and guiding me through the process of choosing and purchasing a car. They were knowledgeable about the different models and options available, and made sure to find the perfect car for my needs and budget. Throughout the entire process, the staff at London Honda were professional and attentive, making sure to address all of my concerns and ensuring that I was happy with ...
Great people work here very helpful if you own a honda this is the place to get your whip fixed up right. You want accessories avery will help you out no problem even with affordable payment plans avaliable.
The highest level of professionalism, courtesy and efficiency were displayed by Jevin Koshy, George V, and Chris Butters when I was selling my car back to Honda recently. Highly recommend asking for these fellows if you visit the Wharncliffe Rd S dealership. Thanks guys!
London honda has treated me well ! Bought an 09 civic and its in great shape ! Chris Boyd was a great salesperson and Chad Wood was an excellent manager to deal with as well!
I love my honda CRV. I have had it since 2018 and have used it daily. It is a reliable and safe vehicle. I purchased winter tires to maximize safety, because safety is my number one priority. Thank you for providing a safe and reliable vehicle Wharncliffe Honda. Thank you Billy for all your help with purchasing my car. Billy is great.
Great people with great services.I get my car under one month thanks to Chris Boyd. I'm really happy to work with London Honda.
Highly recommend Honda!! Spencer .F. and Tommy .P. were phenomenal! Guided us the whole way, and was very professional people to deal with. Also the front desk staff are very inviting and welcoming!. GO SEE SPENCER!!!!!!!!!!!!!
Harry and the rest of the team were great.
Just purchased a 2022 Honda Passport from Chris B. He did a great job looking after us & making sure we were satisfied customers.
I recently purchased a used vehicle from London Honda, and would highly recommend this location. I had been to several other dealerships during my search for a vehicle, and found so many of them were unprofessional and pushy. You won't see that at London Honda though! I was greeted by a smiling receptionist, who was very friendly as she referred me to the sales team. I had the pleasure of working with Spencer and Chad, and they were both awesome. Spencer explained everything and answered all my questions, both professionally and well, and I felt no pressure at all. ...
We acquired our Honda CRV on April 2022. It was Brian Park who helped us out. He patiently explained everything we need to understand. It was hassle-free and in just not more than a week we drove our car home. Great job, kamsahamnida Brian Park!
I discovered a crack in my windshield after spring servicing. I never suspected the dealership was a fault. I thought it must have been an existing stress crack that must have appeared while going up and down the hoist. The service manager (Jim Ashton), addressed my concern quickly. He thoroughly investigated the issue, listened to my concerns and raised this to Honda Canada. I am happy to say I have a brand new windshield covered by Honda. I know this will not happen in every instance but was pleased that the effort was made to keep the client happy. Bought ...
I had a great experience at London Honda, my second time dealing with them, last year and beginning of May2022, I had a great sales person Bailey P. both times he was a god's sent as I had no idea, I was getting him beginning of May ...
We leased a CRV and a Civic with London Honda April 9 2022. The process could not have been any better. Very friendly and supportive. They offered me an amazing price for my returning leases and took great care to ensure that our needs were met. No pressure, just help to make sure we got the deal and options that worked for us.
---