Customer Testimonials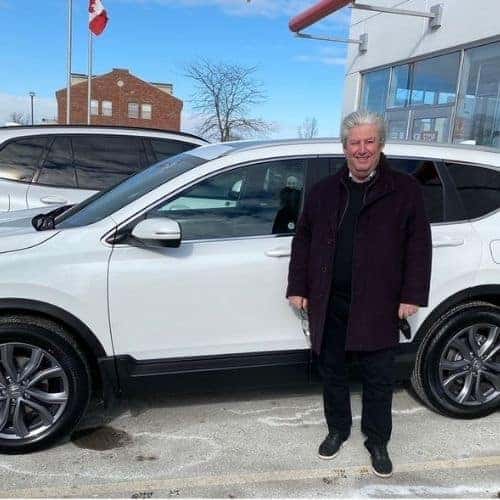 London honda has treated me well ! Bought an 09 civic and its in great shape ! Chris Boyd was a great salesperson and Chad Wood was an excellent manager to deal with as well!
Great people with great services.I get my car under one month thanks to Chris Boyd. I'm really happy to work with London Honda.
Highly recommend Honda!! Spencer .F. and Tommy .P. were phenomenal! Guided us the whole way, and was very professional people to deal with. Also the front desk staff are very inviting and welcoming!. GO SEE SPENCER!!!!!!!!!!!!!
Harry and the rest of the team were great.
If u want a car go see HARRY LA best salesman quick, easy, very outgoing & not pushy at all
Best experience car shopping today, been to vary many dealers of many different makes, many different sales reps, Chris Boyd is by far the Best sales rep we have dealt with, he has personality plus, his attentive and helpful non pushy , Great Guy ! Thank You Chris
I had a great experience here with Chris when I needed a car quickly. He was friendly and helpful, which made the whole experience easier!
We've always wanted to have a CRV, so we went to London Honda not knowing what to expect. We were met by PK, who was helpful, friendly and made us feel at ease. He also ensured that whatever variant he was showing aligns with our needs. When we picked up our car, Adam clearly explained all the documents and made the whole process of releasing the car stress free and enjoyable. Thank you Tom for assisting us in acquiring our new car. Kudos to the whole London Honda Team! You guys are amazing! Will definitely go back when it'...
Chris made the entire experience awesome. I'm happy with my Honda Civic. It is clean and am excited to give it a run.
Chris was amazing one . He gives me the best ever deal a clean and reasonable vehicle and he really makes things easier for customers, I am strongly suggest him.
Nice and clean car. Special thanks to Chris, a helpful and responsible saler!
Just purchased a 2022 Honda Passport from Chris B. He did a great job looking after us & making sure we were satisfied customers.
Excellent customer service. They were fast and professional assisting me. I highly recommend Honda South London
George is the best salesman 👍
Customer service is the best just go to George and leave everything to him 👍
I purchased a vehicle and dealt with Chris. He helped make it a positive experience. Chris was new to the job, down-to-earth, eager to help and answer questions, and accommodating. I was happy with the detailing work when I picked up my vehicle. On a very recent prior visit, I had a less positive experience with a different sales person. Also, I didn't like the dealership's practice of trying to collect unnecessary contact and personal information from me right off-the-bat.
Just had a great experience buying a Used car. Harry was great! He set up the test drives & paperwork & sale , explaining everything . We were never rushed or pressured. The dealership itself was set up for Great customer service. Thankyou
First time purchasing from London Honda 3 years ago when we bought an HRV. We dealt with Tony. He is a very pleasant salesman to deal with. Not pushy. Listened to our requests and found us the perfect vehicle we were looking for. 3 years later our family grew out of the HRV and without hesitation we visited Tony again requesting to upgrade to something larger. Once again Tony and staff at London Honda delivered, upgrading us to Passport and we couldn't be happier with the recommendation and upgrade. If anyone is looking for a vehicle I would strongly suggest visiting ...
My experience was amazing here. I was looking to upgrade from my civic to a bigger, luxurious 2022 Honda accord. It only took Pabeek Dhal a few weeks to find me the car, absolutely brand new! The same day the car came in he had contacted me letting me know. We had everything done (paperwork, etc.) same day and I drove home with my new car a few days later. Thank you to Pabeek for setting me up with a beautiful car! 5* recommendation.
Spencer was the best person I could have dealt with when buying my first car, he made the process go as smooth as possible and within a week I was driving away in my new car!! I highly recommend london Honda to anyone looking for a car, and also highly recommend going through Spencer!
Very nice looking place. A bit expensive to store summer tires though. $85 incl HST.
I recently purchased a used vehicle from London Honda, and would highly recommend this location. I had been to several other dealerships during my search for a vehicle, and found so many of them were unprofessional and pushy. You won't see that at London Honda though! I was greeted by a smiling receptionist, who was very friendly as she referred me to the sales team. I had the pleasure of working with Spencer and Chad, and they were both awesome. Spencer explained everything and answered all my questions, both professionally and well, and I felt no pressure at all. ...
Man, what can I say about Pabeek Dhal he's so great! I hate going to dealerships because I feel that they just want to push you through a line and pressure you to buy. But Pabeek Dhal made me and my family feel at home! And he addressed all my concerns and, He found a perfect vehicle for me and my family! Thank you Pabeek!
Let me start by saying , Why didn't I buy here sooner? I've purchased many vehicles over the years and pretty much from the time you leave the dealership, most salesman have already forgotten your name. This isn't the case at London Wharncliff Honda , where I met Harry our salesman. I was so upset with the other dealerships that I thought I'd try Honda as a last resort . When I met Harry I said this might be your lucky day because after being insulted by the trade in values on both of my vehicles by other dealerships ...
I dealt with Harry and test drove a few vehicles with no pressure, he was knowledgeable about all the vehicles and helped me find the best fit. The whole process was very easy
London Honda was great, they went out of their way to stay in contact and answer any questions I had. They followed up unlike the other dealerships I called. If you are looking for someone that goes the extra mile.....talk to Tony Dani in sales and Chad Wood in financing. These guys went out of their way to make my first time dealership experience a memorable one.
Awesome experience. Customer service excellent. Very pleased with what they did to my vehicle.
For those who looking for amazing service an sales the sales guy that helped me was super amazing i was doubting about buying a vehicle there till Harry the sales man came an help me an he the best in class for info Thanks to the dealer an staff for helping me get an amazing vehicle
Well we have had the Pilot just over a week. We are all setting into the new vehicle We wanted to take a minute to thank you Tony Jimmy and merry everyone who worked so tirelessly to get us into a great vehicle in the time line we needed it in We cannot thank everyone enough for the very thing they have done for us. Your teams helpfulness and patience as well as the dedication is why we keep coming back to London Honda Thank you everyone
I want to give a big shoutout to Tony my sales advisor and Jeff financial advisor for giving me above and beyond customer service. As a new immigrant I was checked out almost all car dealerships in London ON, but London Honda is the only place gave me the best service ever. Initially I was looking for used car, but now I am owner of brand new Honda Civic 2022. From the movement I reached out with a brief inquiry but they were responsive extremely knowledgeable, not only about the vehicle, but in walking me through the entire process. Smooth process ...
got a 2022 civic, had some problems with it, they fixed most of them, good people!!
The staff were very friendly and welcoming. The receptionist Lillian was very eager to help and greeted us with a smile.
Great service, same day and with extra repairs. Brad Pierce kept me informed and was very considerate.
Definition of a quality automotive shop. As an auto shop owner myself. I can tell that London Honda goes the extra mile whenever I have the chance to deal with them. Terrific work!
We acquired our Honda CRV on April 2022. It was Brian Park who helped us out. He patiently explained everything we need to understand. It was hassle-free and in just not more than a week we drove our car home. Great job, kamsahamnida Brian Park!
George was great:) went above and beyond!
First service appointment with London Honda. Clean environment. Large waiting area with free Wi-Fi. Friendly staff. Car wash included with appointment.
I took my vehicle in for preventative maintenance. The staff where very pleasant. Congrats to Holly for your excellent customer service!
5 stars 🌟 🌟 🌟 ⭐ 🌟 are not enough for Heray, I really appreciate 🙏 his help.
I had a great experience at London Honda. Thank you to Doug and the management team for being so welcoming and professional from the moment I walked into the showroom.
I bought my first Civic here. Unfortunately it was totaled in a collision. Thankfully Honda safety standards kept me safe and prevented me from sustaining injuries. I went back hoping they had a replacement like mine. I was quickly greeted by Spencer who showed me what was on the lot, and what was available. He told me about all the promotions running, including their loyalty program. They didn't have the Civic I wanted on hand so we sat down (with pizza and a pop) and looked for my ideal car. Not only did he find the Civic I wanted ...
I hate hate buying cars, and I really dislike dealing with pushy car sales people. London Honda was a breath of fresh air. Bailey was our sales guy. We were trading in a vehicle to buy two other vehicles for our daughters. He listened to our requirements and got us exactly what we needed. No pushing us into something we didn't want. The vehicles we bought are absolutely fantastic, and I can relax knowing that my kids are driving safe, reliable vehicles. London Honda will be our go to dealership from now on. Can't recommend highly enough. Thank ...
My experience with London Honda sales had been great. The person we dealt with was Tony Dani. There are lots of vehicle shortages nation wide and Tony kept us up to date on the expected arrival of our vehicle. He was courteous and professional. This is our second time buying a vehicle from this place and the second time we worked with Tony. When we are ready to get another vehicle, we hope to work with him again.
I discovered a crack in my windshield after spring servicing. I never suspected the dealership was a fault. I thought it must have been an existing stress crack that must have appeared while going up and down the hoist. The service manager (Jim Ashton), addressed my concern quickly. He thoroughly investigated the issue, listened to my concerns and raised this to Honda Canada. I am happy to say I have a brand new windshield covered by Honda. I know this will not happen in every instance but was pleased that the effort was made to keep the client happy. Bought ...
Thanks Harry you are very good professional with your customers and your role is great in closing the deal
I bought a used car for the first time. I've never bought a used car, so I asked the Harry La dealer about the car a lot. Nevertheless, he responded very kindly and checked it out. Because of his trust and effort, I was able to purchase a good used car.
The free coffee is nice. Nothing helps make the wait easier than incontinence. Can we get a slushy machine, pretty please?
Absolutely amazing workers, never had an issue.
Just recently bought our new 2022 civic hatchback from London city Honda Tony Dani took great care of us outstanding service we highly recommend
Great service and customer friendly .C u soon Manager Jim and team🙏
Had a very good experience at London Honda the service we received from Harry.He was very knowledgeable,helpful and customer service was amazing.we definitely go to him when we purchase our next vehicle.
All thanks to Harry, he helped me a lot to get me Honda Accord which I want, great service 🙌🙌
Very nice service excellent communication .
A great big shout out to Honda London. Due to circumstances beyond my control, this Dealership went above and beyond Customer Service in every way. Jim Ashton was absolutely on point with his attention to detail, listening skill and understanding my predicament. Thank you Jim. Best service I have ever encountered. I would absolutely recommend this Dealership.
Hi, A big shout-out for Tony Dani (sales) and Jeff (financials) on the purchase of my used KIA Sorento. I have done a lot of car deals in my life but never one as smooth as this one. These guys are really the business. I look forward to my next purchase with London Honda. Cheers, David Neice
I had a great experience at London Honda, my second time dealing with them, last year and beginning of May2022, I had a great sales person Bailey P. both times he was a god's sent as I had no idea, I was getting him beginning of May ...
We bought a 2019 Fit and are very happy with the purchase. Tony Dani did a great job serving us. We pretty much had the car in our sights, Tony was most helpful by giving us good information. He was also very quick to respond with queries between purchase and pick up days.
Just bought a Honda Pilot from London Honda, absolutely the best customer service I have ever had at a car dealership. The salesman George was friendly, super helpful and Knowledgable would highly recommend getting a vehicle from this dealership the entire staff is amazing!
The service we received from Tony Dani at London Honda was absolutely top notch! From the moment we enquired about a new vehicle to delivery, he was very dependable with very quick response time in terms of answering questions and providing information! He was so informative and made sure we had all of the information we needed. He gave us weekly updates as to the status of where our new Accord Hybrid was in terms of delivery. We had an extensive run through of our new vehicle leaving no questions unanswered! I highly recommend this dealership and Tony!
Needed to replace my vehicle(not a Honda) quickly…Bryan Park my salesperson helped me through the process from giving me a fair price on my trade in, explaining the pluses and minuses of the CR V's in my price range and helping me get started in my new vehicle… would highly recommend Bryan and London Honda
London Honda was an amazing first experience. Toni and Ashley were amazing. Great people to work with. I recommend going there if your looking for a great car and great honest people. Toni and Ashley made that happen for me. Thank you Toni and Ashley
What an exceptional client experience I had thanks to Tony who helped me with the purchase of my new Honda Civic. Tony represents what good looks like when it comes to the behaviors that exemplify satisfying and listening to the customers needs. Tony made my experience from beginning to end memorable and I'll never forget. Thank you Tony.
This is one of the very best Honda Dealerships in London. They are huge and have so many experienced and customer friendly sales executive. One thing is sure about this dealership, you visit London Honda with a dream of buying a Honda, the people here will make that a reality. Value for money is guaranteed here.
I recently purchased a new Honda Civic from London Honda. The sales consultant Bailey was very helpful and knowledgeable. He went above and beyond for me ensuring I got exactly what I wanted and needed in my vehicle. Tommy the financial services manager also went above and beyond for me when putting together my final package. Overall it was a very positive experience and I highly recommended purchasing a vehicle from London Honda and dealing with both Bailey and Tommy.
We leased a CRV and a Civic with London Honda April 9 2022. The process could not have been any better. Very friendly and supportive. They offered me an amazing price for my returning leases and took great care to ensure that our needs were met. No pressure, just help to make sure we got the deal and options that worked for us.
Today we picked up our new 2022 Ridgeline and it's great, We would like to thank Tony Dani for making this a smooth transaction, and who helped us through everything and keeping us updated on it's arrival. Thanks again Tony, I'll definitely pass your name along.
Had a very good experience at London Honda, while purchasing our new truck. Our salesperson Tony Dani made it so easy. He was very knowledgeable and helpful. He was kind enjoy to send us regular updates on the status of the vehicle. He ensured that the vehicle was ready to go prior to our arriving to pick it up. Great customer service.
Very professional, friendly atmosphere. Tony Dani guide us very well to get us our brand new 2022 honda civic with no time. Very happy with our new car. Simply loving it.
Had a great experience at London Honda, Harry was great to work with and was super informative on any questions I may had. Extremely happy I chose to work with London Honda and Harry.
Absolutely amazing experience and service from everyone in the dealership especially from Tony Dani, guy was very knowledgeable and understanding, definitely bringing any business I can to this place!
I am very satisfied with their service. the guy named Harry La is very professional. he answered all my questions in a very enthusiastic and attentive manner. Overall everything is perfect and I recommend you to come here to buy a car
Harry was great, everything was done well and on time. Good experience
Windshield washer jets stopped working while on the 401 after a storm. We were in a jam. Picked up new jets from this dealership and asked if they could help with installation because to was so cold out,(I had planned to do it myself). Service dept had a guy install free of charge on the spot. Excellent customer service. Thank you London Honda!!!
What an excellent experience! I've bought cars from many other dealerships and this was on a whole other level. Bryan was easy to talk with and gave me clear information every single step of the process. My interactions with others (Avery in accessories and Gianni in finance) were friendly and helpful too.
It was everything fantastic to me. Brian was very kind and generous to my family.
Worked with Bryan Park on the purchase of my vehicle. It was a real pleasure for sure. Probably one of the reasons I purchased the vehicle at this dealership.
Exellent service and Brad my service advisor was very helpful. Issue was solved in a timely manner.
Today, I visited London Honda to put winter tires on. I felt their services were greatly improved. I don't know what brought the change, but it is quite positive. I hope they keep working with that mind and services. Andrew, thank you so much for your support. I am looking forward to the next service appointment in the London Honda.
Excellent place to get your car. Bryan, is a really nice person, very patient and easy to talk to, he knows exactly how to tend to customers.
Amazing, very helpful when looking for a vehicle, dependable and reliable. Bryan Park took very good care of m when it came to my personal wants for a vehicle.
---